You are here:
Home
> Typists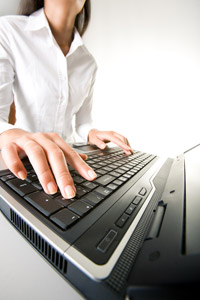 TYPIST APPLICATIONS
Who should apply?
Only top quality bona fide experienced competent professional medical typists who are highly proficient in English and/or Afrikaans and who have proven experience and competence in the following fields of transcription typing:
Medical and Medicolegal
Pathology and cytology
General
Scientific
Transcription of meetings, hearings and conferences.
Visit our services page for comprehensive lists of each category.
Typist Availability Requirements
We wish to supplement the number of experienced professional English and Afrikaans medical typists who are available to type during normal working hours in addition to after hours and weekends.
We also want increase our typist reserve in order to have a sufficiently large reserve pool of competent "part time" transcriptionists that can be called upon intermittently to deliver on larger transcription projects which require a short turnaround time.
All that is required is an accurate reliable indication of a typist's availability no matter how limited it might be.
HOW TO APPLY ?… The application and screening process:
Step 1
Suitably qualified typists should please send an email to info@saprotype.co.za. This should contain:
Updated CV
Appropriate references
A short description of your field of expertise
Indication of language proficiency e.g. English and/or Afrikaans.
NB The "NEW ACCOUNT" section on the website is NOT for typists! It is ONLY for prospective Customers who wish to send dictations or recordings to be transcribed (typed). Typists should therefore NOT sign up as either "Pay-as-you-go" or "Contract" users!
Step2
Typists with appropriate credentials will then receive:
A detailed questionnaire and indemnity form
Relevant typing tests in the form of DSS files and a DSS player link.
This will assess typist competence and confirm whether typists possess the equipment and degree of computer literacy required to be able to use our software.
Basic hardware requirements are:
For Windows XP Pro SP3 (32 bit):
Desktop or Laptop Computer : Intel Core 2 Duo 2.4GHz \ Intel Core i3 or i5 or i7 (Sandy Bidge / Ivy Bridge) ( 2GHz absolute minimum)
2GB of RAM (1G minimum)
Good quality soundcard
Open USB ports
1GB free space on Hard Drive
Word 2003 or higher)
Very good ADSL or 3G connection.
Headset and foot pedal. (Essential). ADD LINK to Products
Transcription kit (Transcription software plus headset & footpedal) optional to give typist flexibility. ADD link
For Windows 7 Home Basic / Home Premium/ Professional / Ultimate:
Desktop or Laptop Computer : Intel Core 2 Duo 2.4 GHz \ Intel Core 2 Duo 2.4 GHz \ Intel Core i3 or i5 or i7 ( Sandy Bridge / Ivy Bridge) (2GHz absolute miminum)
Windows 7 must be upgraded to SP1
2GB of RAM (32bit) or 4GB of RAM (64 bit)
Good quality sound card
Open USB ports
1GB free space on hard drive
Very good internet connection ADSL or 3G
Headset and Footpedal (Essential) . ADD link
Transcription kit (Transcription software plus headset & footpedal) optional. Gives typist flexibility. ADD link
In order to be considered as an independent freelance contractor for inclusion in any particular category, typists must demonstrate their proficiency by achieving a score in the high nineties in any relevant typing test.
Step 3
Successful potential candidates will then receive a personalised Independent Contractors Agreement plus 3 separate annexures for signature:
Annexure 1: Typists starting rates individualised per typist
Annexure 2: Typist details and questionnaire
Annexure 3: Confidentiality Policy for the Use of Protected Health, Legal and other Confidential Information
In addition typists will be required to complete and submit an indemnity form to give consent for us to do a background reference and security check.
Step 4
After contract signature and confirmation of a clear background reference check, typists will receive a unique user ID and password which will enable website access to install our secure software. Typists will also receive tutorials with detailed instructions regarding how to use the saproType Winscribe system and for transcription.
In general there is no charge forup to 30 mins basic assistance with installation or software training either remotely or for typists who are able to bring their computers to the saproType Johannesburg premises.
There is a charge for installation and training at the typist's home.
saproType reserves the right to levy additional charges to any training that exceeds 30 mins.
Step 5
Once typists have sucessfully installed the software and are familiar with the saprotype tutorials and transcription instructions they receive unpaid training transcriptions. Typists only become eligible to be made "live" for access to paid transcription once training is successfully completed at the sole discretion of saproType.
Typist Remuneration
At saproType all transcriptionists are freelance independent contractors. Typists are paid only for what they type. There is no permanent employment as such.
Typists are generally paid at a fixed rate per correct word typed for single voice dictation or ar a rate per minute of recording transcribed unless stated otherwise.
Transcription of meetings conferences and hearings is usually paid at a rate per digital minute of dictation transcribed which can vary dependant on the nature and degree of difficulty of the individual transcription.
Typists and certain saproType-approved representatives may be eligible to earn commission for referring clients or transcription jobs to saproType. This is limited to clearly defined circumstances and is at the sole discretion of saproType.
saproType does not guarantee volume of work or typist income.